This healthy, vegan dish was traditionally made for celebrations and family events and has since become a popular street food in Istanbul.
#IngredientoftheWeek #MakeitYourself #ÇiğKöfte #BulgurWheat #Vegan #StreetFood #Istanbul
In the east of Turkey, in a time of war, the locals were hiding in caves and houses from approaching the enemy. They couldn't light fires which would give away their location and they were hungry… One resourceful woman then had an idea, she took what they had – bulgur, spices and raw, minced meat, and olive oil and on a rippled copper tray started kneading. The action of kneading and the friction with the bulgur and the tray blended and cooked the meat and as the ingredients mixed together they made a delicious and nutritious meal which is an icon in Turkey.
Now served without the meat, çiğ köfte more delicious than ever and a popular street food in Istanbul and the South East of Turkey.
Isot pepper is the spicy essence of çiğ köfte and adds the smoky flavour and dark colour that is so characteristic. It is an essential ingredient to get the right flavour.
If you've had çiğ köfte in Turkey you may remember being served by big, burly men. This is because, made right, it takes up to an hour and a half of kneading to get the right texture and the bulgur to be 'cooked'. So roll your sleeves up and let's get kneading! (Don't worry, the recipe below includes an option of a stand mixer if an hour of kneading is intimidating).
See our Turkish Pantry Basics page for descriptions of the specific Turkish ingredients.
2 cups of bulgur
1-2 tablespoons of biber salçası (pepper paste) or domates salçası (tomato paste)
2 cloves of crushed or minced garlic
1 tablespoon of isot pepper flakes (isot biber or sometimes known as urfa biber)
1 tablespoon of red chilli flakes (pul biber)
1 tablespoon of allspice or an allspice mix
½ tablespoon cracked black pepper (or more to taste)
½ tablespoon of salt (or more to taste)
½ to a cup of olive oil
1 cup of finely chopped parsley
To serve:
Lettuce
Lemon wedge
Pomegranate molasses
Mint (optional)
Flat bread (optional)
Options
1 tablespoon of sumac
2 grated tomatoes
1 tablespoon of cumin
1 cup of crushed walnuts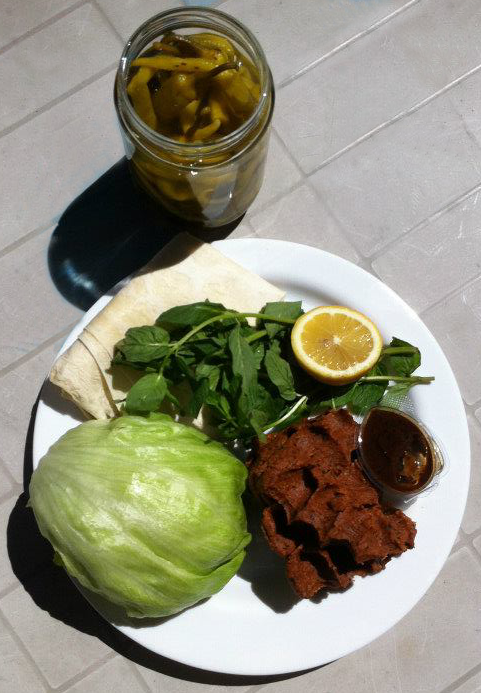 Stage #1
Put all the dry ingredients together in a bowl and start mixing until they are all combined. Stop when it's a uniform colour.
You can add more or less spices, in the East of Turkey they add a lot of isot and pepper making the çiğ köfte darker and stronger tasting. In the West it's a softer flavour and colour.
Stage #2
Gradually add the the oil and start kneading. Keep a bowl of warm water to dip your hands in and you can add some drips here or there to add moisture to the mix. When the ingredients are combined enough to make a kind of ball, you can check and adjust the levels of spices and then… keep kneading for 1 to 1.5 more hours. Or if you have a stand mixer then put it on the knead setting and let it go until it is soft and combined, 40 minutes or so. You will see the separate bulgur granules still but It will be like a paste and when you taste it, it won't have any graininess. If it doesn't get wet enough, you can add some warm water.
Add the parsley and knead for 5 more minutes.
Then put a cover over the bowl and rest it for an hour.
After an hour shape the kofte with your fingers. The traditional shape comes from pressing it between your fingers so you can see clearly the finger impressions and it's sort of bumpy log.
To serve, rip up a lettuce leaf and place the çiğ köfte inside, add a leaf or two of mint, squeeze some lemon juice and a drizzle of sour pomegranate molasses. (Try to get the Turkish pomegranate molasses as it's sourer and differs from the bolder North African and Arabic types.) You can add some Turkish pickles to the side too.
Serve with Turkish tea.
Thanks again to Tony Sak for the recipe
See Tony's other kofte recipes.
Where to buy Turkish ingredients in Barcelona​
Mercat Arab Carnisseria y Alimentacio Carrer de l'Hospital, 107, 08001
Carnisseria Arabia Alimentació Carrer de Clot 43, 08018
Cosmo Cash and Carry Ronda de Sant Antoni, 11, 08011
B.H.G Supermercat del Món Carrer del Parlament, 21, 08015
Where do you get your bulgur wheat, biber salcasi and Turkish spices in Barcelona? Share your tips with us on Instagram #sawcerapp #IngredientHuntersBCN @sawcerapp
First photo by Benreis CC BY-SA 4.0