Suresh from Three Hungry Tummies shares his mid-week recipe for gyudon – Japanese Beef Bowl:
"This is such a satisfying one dish meal that one can whip up in minutes especially if you choose to use instant dashi instead. I love the ritual of making my own dashi  as it certainly shown in the finish result."
Vegetarians and vegans – use vegetarian dashi and omit the egg if you like. You can exchange the meat with tofu, press the tofu to remove the water so it absorbs the flavour of the broth.
Gluten free – replace soy sauce with tamari or coconut aminos.
For explanation of the ingredients see The Japanese Pantry post.
Ingredients for 3 serves:
600 g of beef fillet, sliced thinly across the grain*
1 onion sliced
5 cm knob of ginger
grated 1 spring onion
chopped 4 tbs of mirin
3 tbs of Japanese soy
1 tbs of sugar
1 cup of dashi 
3 onsen tamago  (hot spring egg)
Steamed japanese rice
pickle ginger to serve
shichimi togarashi to serve
* Place beef fillets in the freezer for half an hour for easy slicing.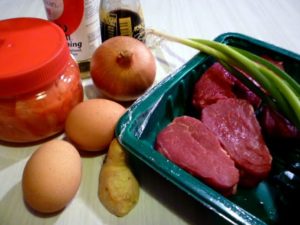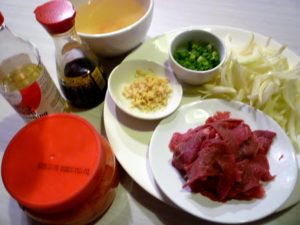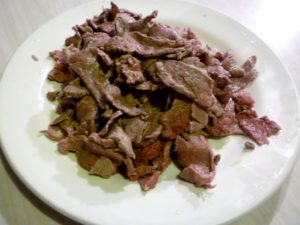 Blanch the beef for a 15 seconds and drain well.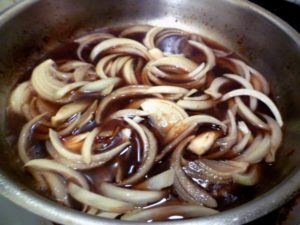 Place mirin, ginger, sugar and soy in a pan and bring it to a simmer. Add beef and cook for 15 seconds, remove and set aside.
Pour dashi into the same pan with the soy/mirin mixture and cook the sliced onions til soften.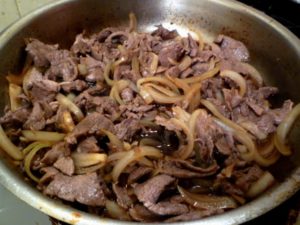 Return beef to the pan and mix well and bring to a simmer to heat up.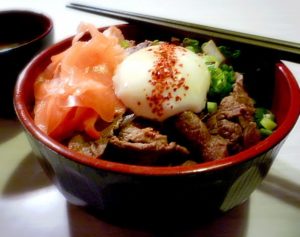 Ladle beef onto some hot Japanese rice, top with an onsen tamago, spring onions, pickle ginger and sprinkle some shichimi togarashi over.