Rocío, from Colmado Afrolatino - Via Laietana, 9, 08003
Colmado Afrolatino is Europe's biggest shop specialising in Afro-Latin products. Entering this shop is like travelling to Mexico, Peru, Uruguay, Argentina, Venezuela and more.
It was opened in 1986 and has recently opened sister store in Eixample, Pacífico Market. We are in love both shops for their enormous variety of products.
We interviewed Rocío about her passion for latin products.
All the products mentioned are available in the store.
#Latin #YerbaMate #Chimichurri #Peru #Mezcal #Corn #Chifles #Tequeños #Tamal #Chillies #Argentina #Uruguay #Mexico #Brazil #Quinoa #PastaDeAjo #SalDeGusano #Oaxaca
What is the best part of your job?
The thing I like most is to get to know other cultures and having contact with our customers. We don't just sell products but through our products we have a connection with our customers which is so great. We love to see the faces of the customers when they come and see a product they've been looking for for a long time and in the end we make friends!
What inspires you in the kitchen?
I'm inspired by discovering ingredients and flavours. After working here for so long my diet has changed, diversifying and incorporating flavours.
I also enjoy daring myself to try things that previously I wouldn't, like anticucho (a Peruvian dish of marinated beef heart) – and after trying it I'm surprised to find I love it.
If you have an open mind you can enjoy things that at first may sound strange.
Something you eat that you will never tire of?
Chifles, packets of fried plantain that come in different flavours and spices… They eat them all the time in Ecuador and Peru.
What do you cook if you only have 20 minutes?
Quinoa with vegetables, with a special ingredient: Peruvian chilli paste. It is very different to the chilli that we have here. Boil the quinoa,  throw in four vegetables and you have a delicious meal.
What do you take to a barbecue?
Chorizo criollo and blood sausage both from Argentina, and of course Dominican bacon and beers. We have many beers from Peru, Bolivia, Ecuador, Argentina and Mexico, we have about 25-30 brands that we import.
What is a special flavour you remember from when you were young?
The tortos de maíz that my grandmothers made in Asturias that are exactly the same as the corn tortillas that they eat in South America.
Do you follow any chefs or food bloggers?
I follow Jorge Muñoz, chef at the Peruvian restaurant Pakta, and Paco Méndez, chef at the Mexican restaurant Hoja Santa.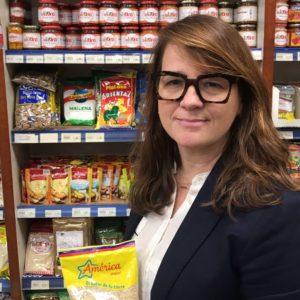 Can you recommend a restaurant?
There is a restaurant with traditional homemade food, el Rosa de Alejandria, in L'Hospitalet de Llobregat that has an extraordinary menu and is very affordable.
What is your favourite cooking trick?
I prepare flavoured oils from Peruvian ají panca, ají amarillo, and other dried, smoked chillies.
I have three or four cans at home that I have prepared by cooking the chiles in the oil, providing each with a different, distinct seasoning.
Argentinian chimichurri for barbecues… or sal de gusano (Oaxacan salt/spice mix) for mezcal although it can also be used on fruits and other foods.
What do you sell most of in the shops?
It depends on the season, for example in the month of the Day of the Dead the sales of Mexican products goes up a lot.
We have more than 40 yerba mate products, not only the yerba but also the straws, the cup… and utensils like the plate that is used to make arepas, and the press that is used for tacos. 
Your favourite stores in the neighbourhood?​
Vila Vineteca, C/ Agullers, 7, for wines and liqueurs.
Jaime Renobell, Pg. Picasso, 34, shop for bulk buying products and spices.