Manon, from Delhicioso! - making lunchtime deliveries to all of Barcelona
Manon is head chef at Delhicioso!, the food delivery service bringing flavours of the world to the offices of Barcelona.
Originally from France where she worked in the food industry but behind a computer, Manon's move to Barcelona signalled the perfect opportunity for her to follow her passions into the kitchen. Kismet led her to the diverse and flavour obsessed Delhicioso! team and now, with a different menu every week and guest chefs from all over the world, her days are spent cooking, developing recipes, and researching and getting inspiration through cookbooks, blogs, cooking shows and social media.
With a blog and on social media as Madame Frometon (Mrs Cheese in French!) she has done her research on cheese shops in Barcelona and shares with us some more foodie tips and a few favourite recipes.
#FromagerieCanLuc #Gracia #Cheese #French #HauteComte #Chachiba #BrillatSavarin #LaSalumeria #Mortadella #SantAntoni #YesFuture #LaPlatelleria #PobleSec #Ramen #Soba  #TopChef #ChocolateFondant
What is the best part of your job?
Being paid for cooking – it is my passion. It is not like going to work as before, now it is just… I love it. Rish is from India, Grace is from England, I'm from France and Ada is from Spain, so everyone has their own recipes and knowledge, it is very cool to mix everything.
What is something you can eat and never get tired of?
Every cheese. My favourites are the Haute Comté, Brillat Savarin – this is a creamy cheese, so good, and Chachiba goat cheese. In Barcelona I get them at Can Luc.  Can Luc is French, you buy raclette cheese and you melt it with potatoes and ham and it is very good.
What do you cook if you only have 20 minutes?
Ramen – I just buy the liquid chicken broth and I cook the pasta [separately bought Japanese soba noodles] and then I add some mushrooms and peas and some chopped ginger, season and that's it. It gives you homemade ramen without additives.
Do you have a dish you're known for with friends and family?
One dessert which is my speciality is chocolate fondant. I use 200g chocolate, 100g of butter, 4 eggs, 100g sugar and 40g of Maizena [corn flour] so it's gluten-free. Use a pastry chocolate, the black one – the best is to find one without lots of additives or milk, just the purest one you can find in the shop. In France we have a huge choice of chocolate for pastries but here it's harder to find.
What is your earliest food memory?
At 3 years old I used to look at cooking TV shows by myself, I was never asking for movies or Disney, I was asking for cooking TV shows. And from very young I would love to spend a lot of time eating with my parents and their friends, I preferred that from going to play with other children.
Do you follow any chefs of food bloggers?
I follow a lot. 
Sanchez is a new one, doing very inventive food, like chemical things,  he changes a lot of what we are used to doing in France. 
Julie Andrieu does a TV show and she used to go in every part of France to discover the old recipes, then she writes books so that the recipes are not forgotten and we can still use them. She meets people, grandmothers and people with a lot of history. I like it.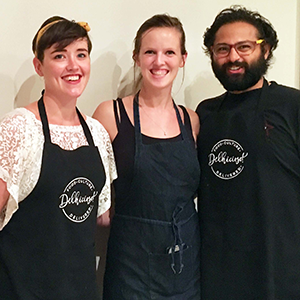 Do you watch any foodie tv shows?
Top Chef in French, it starts in February. There are 12 at the beginning and then in the end just one. You can't cook what they are cooking because they are professionals but you can take some ideas and you cannot do the same at home but with the ideas, you can try new things.
What is your favourite cookbook?
I have, like, 50 cookbooks. My favourite is an Italian one, in French it's called La Cuillère d'argent [The Silver Spoon] – it is a book of 1,000 pages and this is like the bible of Italian food. I've made lasagne, pastry crusts for doing pies, minestrone. When you try the recipes in this book it works.
Have you been surprised by any of the dishes you've made with Delhicioso?
The one that surprised me the most was a vegetarian dish with sautéed red cabbage and red peppers, tofu with pineapple. I love it when people say they don't like this type of food and then they try it, it's like 'wow, it's so good'.
Your favourite places in your neighbourhood?
La Platelleria Carrer del Roser 82, Poble Sec. You can find tapas everywhere in Barcelona abut I think in the Platelleria everything is perfect.
La Salumeria Carrer del Comte Borrell, 8, Sant Antoni. An Italian shop, I buy their pasta, sun-dried tomatoes and mortadella and ham.
Yes Future Carrer de Viladomat, 66, Sant Antoni. For basics without any plastic. You buy everything in bulk, everything is in containers and you take the quantity that you need. It is good for the planet and there's a lot of choice. And I discovered chickpea pasta and lentil pasta there, the red lentil pasta is very good.