Jay, from Little Fern - Carrer de Pere IV, 168, 08005
Inspired by their travels around the world and the brunches and cafes in Jay's home country of New Zealand, Jay and Jude have crafted Little Fern, a delightful oasis in Poblenou filed with specialist coffees and cocktails, and carefully crafted brunches that manage to be healthy and decadent at the same time.
The antipodean influence extends to the coffee (available by the bag) by fellow Kiwis, UK-based coffee roasters Ozone. And Prana chai all the way from Melbourne, Australia.
We met Jay at the end of a day of serving and baking, with the smell of fresh cake filling the air, and talked about food, life, inspiration and the effect of cannabis oil drops in coffee.
#Coffee #Ozone #CoffeeBeans #KimchiPancakes #NewZealand #CornFritters #PranaChai #CBDCoffee #LittleFern
What gets the most comments on your menu?
Kimchi pancakes, that's probably the one that gets asked about the most. Either the people order it because they know what kimchi is already, or they just don't have a clue. Or, like, kimchi they might know but kimchi pancake is like 'what's going on?'. That and the corn fritters.
For the Spanish customers they're very different dishes.
What's the best part of your job?
It's really weird because I think my wife and I are both kind of introverted people, so it's almost fully against every grain of our bodies to open a cafe but I think at the same time my favourite part is to chat to customers and in Barcelona there's such a massive tourism industry, you're meeting people from over the world every day, which is awesome.
Do you have a memory that inspires your cooking?​
Definitely not the food when I was young in New Zealand. I was just chatting with my Australian friend, from Yellow Bakery in town, about the food we were brought up on, super basic, like bangers and mash and frozen veg so not really much coming from there!
What do you cook when you want to impress someone?
Probably some salmon, Jude loves a really nice pan seared salmon. Basic sides. When I had time, like before we opened, I would sous vide the salmon, maybe throw some herbs and garlic and olive oil, salt pepper, and then pan sear it. Nothing too outrageous. Those times are gone, the old sous vide thing is getting dusty now!
Do you take inspiration or follow any food bloggers or chefs?
For sure, a lot. Massimo Bottura, he does amazing stuff. One of the things I love that I really love what he is doing is with all the with waste food. I think he started a pretty good movement with that. And Grant Achatz, he has a 3 star Michelin in Chicago, very full on, very experimental.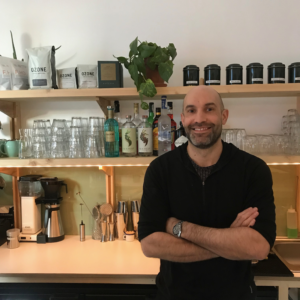 Do you have a favourite cookbook?
I do actually have Ferran Adria's book, the book they created for the average person to be able to create a lot of their dishes, or close to it. The last one I tried was one the desserts, it was a while ago. I don't think it looked like… it was kind of like 'Pinterest failure' haha but – never give up, never give up.
Do you have something unique on your menu?
We have CBD coffee. [CBD is Cannabidiol oil, refined from marijuana, and has the THC  removed so it doesn't make you 'high']. What we use is a 5% concentrate which is not low and not high either, for people who want to try it's a good percentage. The effects differ for everyone, it's hard to say 'this is going to happen', a lot of people take it for stress and anxiety.
What do you love about Poblenou?
It's quite a relaxed neighbourhood. It's close to the beach. You can see the sky. The wide streets. The streets are nice and airy. I don't think I would be able to live in the centre and walk out of the apartment and get hit by a wave of people walking in all directions. 
The's something about the vibe here, and it really is a creative community, Jude and I love everything creative, photography and music, all of that. And that community is definitely around here – all over BCN but it's definitely concentrated here. It feels like Brooklyn, like a Williamsburg vibe.