International supermarket in Sant Antoni
#ShopoftheWeek#Filipino #Thai #Chinese #Indian #Pakistani #Japanese #Singaporean #Malaysian #Tofu #Sriracha #Arabic #Tahini #PomegranateSyrup #Freekeh #Milo #BakingEssentials #RoseWater #OrangeBlossomWater #SouthAmerican #CentralAmerican #Frozenfoods #JackFruit #FishSauce #PandanEssence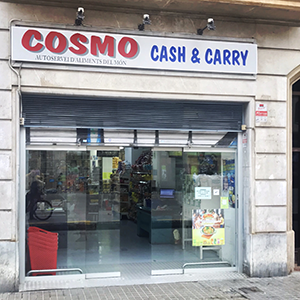 This ugly duckling in Sant Antoni has exactly what you're looking for and so many things that you never knew you wanted.
There are South East Asian products and also Arabic, South and Central American, Indian Subcontinental and some African too.
It's a surprisingly big too, you can get lost here looking at all the tasty and interesting products they have.
It even has a great selection of products for making cakes and desserts.
Did you find something you love at Cosmo Cash & Carry? 
Post it on Instagram and tag us @sawcerapp or #sawcerapp to share it.
Ronda de Sant Antoni, 11, 08011