The great spice selection might surprise you at this store of everything cute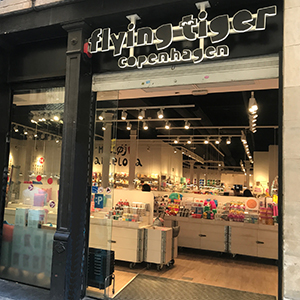 Yes! Tiger is a shop with lots of plastic things and gadgets and toys but did you know it also has a secretly great selection of spices and herbs?
From pink peppercorns, to a Greek dried herb mix, garlic dip mix, taco mix, pink himalayan salt, lemon pepper and spices for mulled wine. All €2 each. 
There are also savoury snacks like peanut wasabi snacks and chips.
Tiger also has an interesting selection of treats like salt liquorice, sour marshmallows, and the more expected gift boxes of chocolates and candies.
There's also a popping candies and other sweets for cake decorating too.
#ShopoftheWeek #Cute #Lollies #Spices #WholeSpices #SpiceMix #Chilli #Danish #SaltLiquorice #WasabiPeanuts #GreekSpices #TacoMix #Glüwein #MulledWine #PinkSalt
Flying Tiger Copenhagen shops in Barcelona
Carrer Comtal, 32, 08002
Carrer de la Portaferrissa 13, 08002
Ronda de la Universitat 11, 08011
Carrer del Consell de Cent 341, 08007
Carrer del Rosselló, 247, 08008
Carrer Gran de Gràcia, 75, 08012
Carrer de Muntaner, 272, 08021
L'illa Diagonal, Carrer del Prat d'en Rull, 557, 08029 Barcelona
Carrer de Sants, 138, 08028
Avinguda Diagonal 3, Planta 3 C.C, 08019
Gran Via 2, Avinguda de la Granvia, 75, 08908 L'Hospitalet de Llobregat, Barcelona
Passeig de Fabra i Puig, 188, 08016
Carrer de Mar, 57, 59, 08911 Badalona, Barcelona
Do you buy food at Flying Tiger? Share your tips with us on Instagram #sawcerapp #IngredientHuntersBCN @sawcerapp.