Indian and Pakistani Spice Store in Raval
This little shop in Raval is a treasure trove of spices and Indian and Pakistani ingredients. The smell of spices will greet you as you walk in the door, and that take up most of the main aisle in the shop, but there are plenty of other products they have, it's worth taking some time to browse.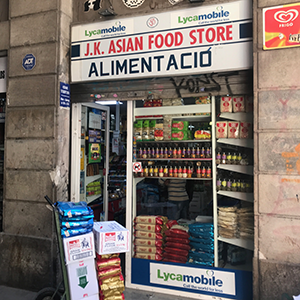 It has all the dried split pulses – mung, urid, lentil and more to have you making the dal of your life.
The fridge up the back has drinks and also fresh turmeric and whatever's in season at the moment, for me it was delicious looking okra.
The aisle with Indian snack foods is intriguing and tempting.
There's a small international section too with Thai curry pastes and Japanese spices, I picked up some Turkish bulgur too.
#ShopoftheWeek #Asian #Pakistani #Indian #WholeSpices #SpiceMix #Chilli #Pickles #Bhuja #Rice #Okra #DeliciousSyrup #Dal #Curry

JK Asian Food Store Carrer de Sant Pau, 25, 08001
Do you find a great ingredient at JK Asian Food Store? Share your tips with us on Instagram #sawcerapp #IngredientHuntersBCN @sawcerapp.