Where to buy Mexican chillies and chilli sauces in Barcelona?
Mexican chillies – chiles mexicanos​
When you think of Mexican food, no doubt you also think about spicy, pickled jalapeños, chilli sauce and delicious smoky flavours of chipotle and ancho chillies.
Chilli sauces and jalapeños are used as condiments but the dried smoky chillies like ancho and guajillo are used to create a subtle warmth and a depth of flavour that are essential for an authentic taste to adobo sauces, meat rubs and salsas.
Check out our posts about the Mexican Pantry Basics and our handpicked selection of great Mexican recipes for ways to use them.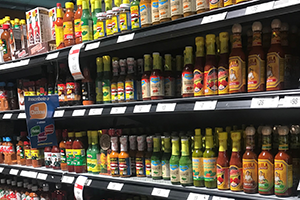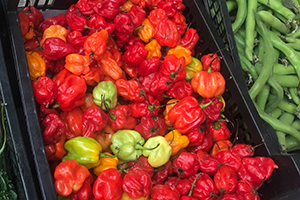 #IngredientoftheWeek #MexicanChillies #MexicanChilliSauce #SalsaPicante #Habanero #Jalapeño #Mexican #Condiment #Spicy
Vegetarian and gluten-free
Of course chillies are vegetarian and gluten-free and chilli sauces should be, but as always check the label.
Where to buy Mexican chilli sauces and ingredients in Barcelona
Manjares Carrer Torrent de l'Olla 146, 08012
Abarrotes Doña Cuca Passatge de Font, 4, 08013 Barcelona
Ándele Arenas Arenas de Barcelona, Gran Via de les Corts Catalanes, 373 – 385, 08015 Barcelona
Latincor – El Superlatino Carrer de Còrsega, 536, 08025 Barcelona, Spain
Colmado AfroLatino Via Laietana 9, 08003 Barcelona
Pacífic Latin Food Market Carrer de València, 462, 08013 Barcelona
Lucky's Supermercat – Alimentacio i Productes-Llatins Carrer de València, 519, 08013 Barcelona, Spain
Pampa Drugstore Carrer del Carme, 7, 08001 Barcelona
Latinbol Carrer de Trafalgar, 17, 08010 Barcelona
Coloimport Novedades Gastronomicas Carrer de Rocafort, 85, 08015 Barcelona
B.H.G Supermercat del Món Carrer del Parlament, 21, 08015
Where do you get Mexican chillies and ingredients? Share your tips with us on Instagram #sawcerapp #IngredientHuntersBCN @sawcerapp or in the comments below.