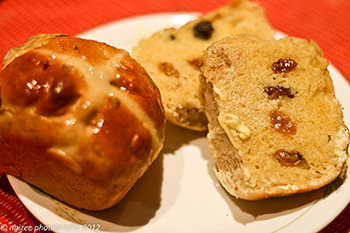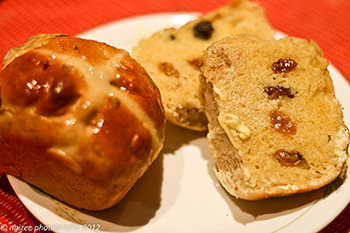 In my previous job a small group of my coworkers realised we were all obsessed with food. Cooking it, eating it, reading about it, talking about it. We loved to go together to try new cuisines (Sichuan, Uyghur, Malaysian, Venezuelan, Moroccan!) have cook offs (first time I tried biryani was when I made it for a biryani-off), and try new ingredients.
One year we got all the best rated Hot Cross Buns in town, made giant cups of tea and went about tasting and rating them against each other. Neil was the pappa and blogger of the group and decided he could do it better, and actually he did. The recipes is below and you can see Neil's original hot cross buns post here.
I will be making these this week and I hope you do too!
Makes 16 hot cross buns
For the buns
100g of Sultanas
100g of Currants
½ cup of Pineapple Juice (used a a soaking liquid)
100g of Sweet Uncrystalised Ginger (available in the baking aisle at the supermarket)
700g of Plain Flour, sifted
60g of Caster Sugar
2 tsp of Dried Yeast
1tsp of Allspice
½ tsp of Ground Cinnamon
300ml of Milk
100g of Butter, cubed
1 of Egg, beaten
For the crosses
50g of Plain Flour
¼ cup of Water
For the hot glaze
¼ cup of Pineapple Juice (retained from soaking liquid)
50g of Caster Sugar
¼ tsp of Mixed Spice
Making your hot cross buns
Soak the sultanas and currants in the pineapple juice for about 30 minutes.
Chop the sweet ginger into small pieces.
In a large mixing bowl combine the sifted flour with the sugar, yeast and spices.
Drain the soaking fruits, reserving a ¼ cup of juice for the glaze.
Add the fruits and the ginger to flour mixture, stirring to distribute evenly.
Heat the milk on a low temperature and add the butter to melt, the mixture should be luke warm.
Whisk the beaten egg into the lukewarm mixture and remove from heat.
Make a well in the flour mixture and slowly pour in the liquid.
Use a wooden spoon to bring the ingredients together.
Turn out onto a floured surface and knead for 10 minutes.
Then form into a ball shape and place in a large greased bowl.
Cover bowl with cling wrap and allow dough to prove in a warm place for 1 hour.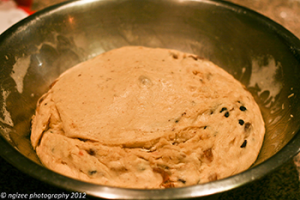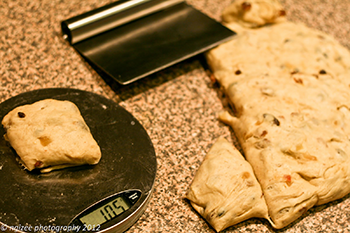 Turn the dough out onto a floured surface and knock the air out of it.
Divide into 16 balls weighing approximately 100 grams each.
Place the balls, evenly spaced in a large cake tin.
Cover the tin with a damp tea towel and allow balls of dough to prove in a warm place for 45 minutes.
Preheat oven to 220 degrees Celsius.


Prepare the mixture for the crosses by combining the flour and water with a fork until smooth.
Place the mixture into a piping bag with a small nozzle attached.
Carefully pipe vertical and horizontal lines on the risen buns to form crosses.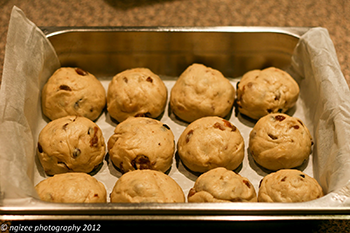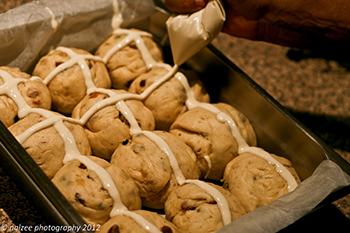 Place the tin in the oven and bake for 10 minutes on 220 degrees.
Then turn heat down to 200 degrees and bake for a further 10 minutes.
Prepare the glaze by combining the sugar, mixed spice and reserved pineapple juice in a saucepan on low heat.
Stir continuously to ensure the sugar dissolves completely.
Apply the glaze with a pastry brush, evenly on the buns as they come fresh out of the oven.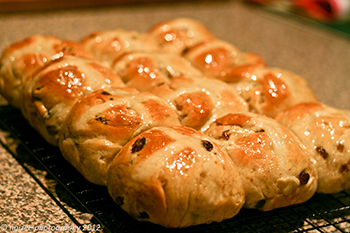 When cooled slightly, remove from the cake tin and allow buns to cool further on a rack.
Serve the Hot Cross Buns sliced in half, toasted and with a generous slather of butter and a cup of tea.
Enjoy and thanks Neil for the recipe!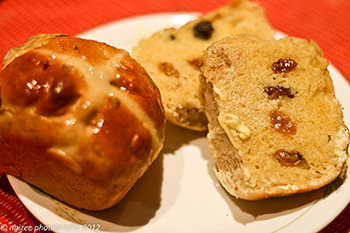 Where to buy baking ingredients in Barcelona​
Taste of Home Carrer de Floridablanca, 80, 08015 Barcelona
Casa Ruiz Carrer d'Aribau, 169, 08036 Barcelona
Casa Perris Plaça Comercial, 2, 08003 Barcelona
Jaime J. Renobell Passeig de Picasso, 34, 08003 Barcelona
Cookiteca Santaló Carrer de Santaló, 64, 08021 Barcelona
Gadgets Cuina Carrer d'Aragó, 249, 08007 Barcelona
Forn Baltà Carrer de Sants, 117-119, 08028 Barcelona
Manenas Carrer del Pegàs, 7, 08027 Barcelona
Where do you get your flours, dried fruits, and baking tools in Barcelona? Share your tips with us on Instagram #sawcerapp #IngredientHuntersBCN @sawcerapp